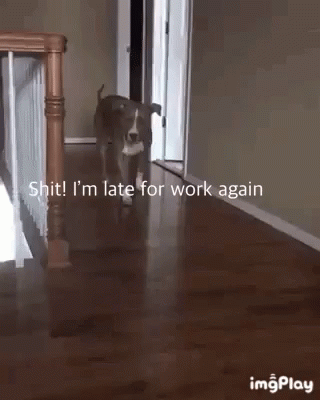 "The dog is late, and I'm wearing pajamas made from the same material as Handi Wipes, which is reason enough for me to wish I were dead."
          Binnie Kirshenbaum, Rabbits for Food.
Since the last Best of Lines was about a train called the Yellow Dog, you're probably figuring that, if there's "dog" in it, I'm there.  And you are so right.  But, no.  This line is such an unlikely combination of imponderables with all of them, every one, leading to, guess what………..pondering.  Ta damn da.
The dog is late.  A dog with an appointment?  Dogs don't know time.  All dogs know is "supper time, supper time, sup-sup-supper time".  I thought immediately of Kevin Hearne's Iron Druid series and that delightful canine Oberon, who's hilarious and hopelessly muddled on the subject of time.  Dogs just don't get it.  So what's this with the non-punctual pup?
Moving on, Handi Wipes pajamas suggests disposable, maybe institutional, but I don't know.  Doesn't sound like something one would choose, though.  Then the speaker wishes to be dead.  So not good.  Tough times, unfortunate circumstances, perhaps even the edge of the abyss?  I WANT TO KNOW!  No details, no weather report, no trees or flowers, no location, no characters introduced or described.  This line is not about filling us in; it does not front load; rather, it intrigues.  We have no clue whether this individual is male or female, and we know absolutely nothing about that tardy dog, but, by golly, WE WANT TO KNOW!  Don't we?
Of course, all this pondering occurs simultaneously with the reading of the sentence, in the blink of an eye, half a blink, and we simply read on, not even aware that we have pondered.  We read on because we want to know.  This tantalizing book's not out yet (advance reader copy), but I'm going to read it (and post a review, of course), and you know why.  Because I…………everybody, let me hear you say it!  Louder!  In the meantime, here's a reader's tip.  If you don't know the Iron Druid series and Oberon, literary love of my life, Kevin Hearne's light-hearted fantasy series is great good fun.