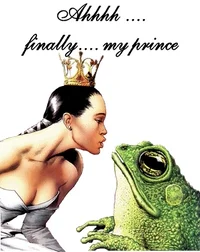 "Celeste Jones had kissed so many frogs looking for her prince, she should have turned green and grown warts on her lips."
Sheila Roberts, The Summer Retreat
I don't think I'll ever get over this one.  It may leave me scarred for life, this first line gone horribly wrong.  We were doing just fine through "green".  Period.  Just a period or, if you want, maybe "and croaked" or "and hopped".  Probably not "and ate flies".  It's marginally better, but risky.   It could get you almost back to where you landed in the first place.
Folks, I'm sorry, and I'm not saying this isn't funny, but you know how it is.  Sometimes when you're among friends or out with the girls (or the boys), you say something gross that gets the big yucks.  I mean, they really fall out.  Somebody thinks about it five minutes later, and they're losing it again.  Trust me though, there are those types of funny that cannot be counted on to come across well in print.  I can hear my snarky self saying something like this to get a laugh.  Unfortunately, in writing, I saw the horror of it.
I haven't read the book at this time, and this is not meant to reflect in any way on Sheila Robert's work, so please be fair.  Simply my observations on a single line, and one line is not a book.
Going to the drugstore now for some Compound W.